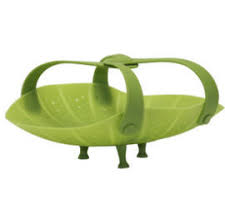 Yet another favorite way to cook broccoli, cauliflower, green beans, and vegetable blends is to steam them. I, thanks to wedding gifts (and a find at Dirt Cheap), I have 3 ways to steam my veggies.
– Electric Vegetable Steamer/Rice Cooker – this was my Dirt Cheap $6 find! My steamer cooks rice to perfection and also steams vegetables wonderfully!
– Steamer Basket – I got a cool green silicone steamer basket as a wedding gift (which I love!),
.but my mom has always had a metal one from the supermarket which works great, too. What I love about the silicone basket is that it is easier to get out of your pot without getting burned and the food cooks really even. It's also a cinch to clean.
– Micro-steamer – I also received a really neat Micro-Steamer as a wedding gift from Pampered Chef. I just got it the other day and can't wait to try it out!
How To:
– To steam with an electric or micro steamer, read the instructions.
– To steam with a steamer that fits in a boiler, fill your boiler with water to the base of the steamer (the STEAM cooks your food, the food shouldn't be in the water). Place your veggies in the steamer basket, season, and close the lid, allowing your vegetables to cook for about 10 minutes or until tender-crisp.
Seasonings:
– You can choose your seasonings based on what you have a taste for. I've known people to put lemon juice, garlic, and other seasonings right into the water. We normally season our steamed vegetables with Seasoning Salt and Lemon Pepper. Basil, Garlic, Oregano, Salt, and Pepper are all great for seasoning, too!